How To Drive a Car | Make Seatbelts a Habit
As you learn how to drive a car you will notice news stories as the one below.  Make sure you are NOT the one making news.  Be sure to practice putting on your seatbelt before you start driving a car.  Make this as part of your Learn to Drive checklist.
Seat-belts separate car crashes from fatal car crashes. Statistics prove they save lives. There is no good excuse not to wear a seat belt. Buckling up needs to be a habit you do without thinking.  Practice now when you are learning how to drive a car so that when you graduate to driving a car solo , wearing a seatbelt will be a habit. 
Look for more information in the Driving Lessons sections of the Workbook and the Video Library.  See Driving Lesson 1. 
Learn To Drive: Driving Lessons Video Library
MIRAMAR, Fla. -- Two teenagers are dead after driving a car  into a South Florida house.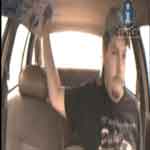 The Miramar Police Department says the 18-year-old men were driving early Tuesday when their vehicle veered out of the lane they were traveling in and catapulted into some shrubbery.  Police say the vehicle then rolled over and struck the back of a home.
Miramar police spokeswoman Tania Rues says Kevin Anthony O'Connell of Pembroke Pines died at the scene and Ian Michael Guckian of Weston was pronounced dead at a hospital. It was unclear which teen was driving.
No one in the residence was injured.
The video shows what can happen when a person is not wearing a seatbelt.