Remind Your Students that Distracted Driving can be Deadly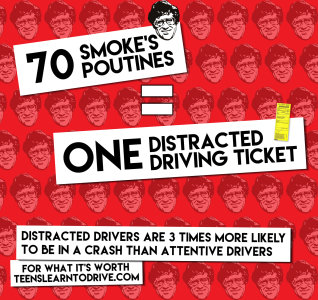 Driving while distracted is a deadly  epidemic and we all know how attached students are to their cell phones. In Ontario, the fine for distracted driving is $490. That can be a big deterrent but students need a lot of reminders about all of the penalties of distracted driving if we are going to get them to break their cell habit while driving.
We can all agree that this is a lot of money. However, this monetary penalty means nothing compared to the possible consequences of driving distracted which could be crashing and killing themselves or someone else!
Free Posters!
Contact us if you'd like to receive copies of our FREE posters that remind students of the $490 ticket they could get.
Short Videos at Each Assembly
Consider setting aside 5 minutes at the end of each assembly to show a video that reinforces an aspect of safe driving.
AT&T produced a great campaign about distracted driving.  To see all their videos, click PSAs.  We have selected a few of the best ones below.  You can view them by clicking on the videos below or you can use the links provided to show them from Youtube.com
These videos give students a first-hand look at the consequences of distracted driving. They have high impact without being gory.  Feel free to share these videos or use them as a resource at your next assembly.

Jacy Good Shares Her Story on Distracted Driving
| AT&T
In 2008, Jacy Good lost both her parents in a car crash caused by a distracted driver. In that same crash, Jacy was also severely injured. She spent two months in the hospital, followed by another two months learning to walk again. This crash, and many others, are 100% avoidable; as a result, Jacy shares her story in hopes of eliminating distracted driving. To access this video on YouTube, click here.

AT&T Don't Text While Driving Documentary 
| AT&T
Wil Craig knows very well of the dangers of texting and driving. At the age of 17, Wil was riding as a passenger when he became the victim of a car crash that was caused by a distracted driver. He suffered a severe head injury and will never be the same again. Because he survived, Wil shares his story with others in hopes of one day saving their lives. To access this video on YouTube, click here.
Fletcher's Drive - It Can Wait | AT&T
Fletcher Cleaves was a high school student who had a promising future ahead of him as a football player. On September 9, 2009, Fletcher received great news; he would be the starter for the Lambuth University's football team. What appeared to be the best day of his life quickly became the worst. That same day, Fletcher was driving back from practice when an upcoming driver, distracted by his cellphone, drifted into Fletcher's lane and caused a head-on collision. This collision paralyzed Fletcher from the chest down and changed his life forever. To access this video on YouTube, click here.