Teens Learn to Drive Inc.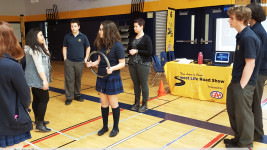 Teens Learn to Drive is a non-profit corporation whose mission is to reduce death and injury from traffic crashes.
We actively work with other non-profit organizations and corporations to:
Raise awareness that teen and senior drivers have an increased risk of being involved in fatal and injury-producing crashes
Educate and support parents about their crucial role in helping their teens become safe drivers
Help parents develop simple strategies to support, monitor and coach their teen drivers effectively
Educate teens about unsafe driving behaviors and help them develop workable plans to minimize their chances of being involved in a fatal collision
Educate and support senior drivers about strategies that allow them to maintain their independence while reducing the risk to them and others on the road
Educate and support new citizens to integrate existing driving experience into safe driving through an understanding of laws and practices
The delivery of this education is via:
Printed materials: books, posters and flyers
Articles: Google Knols, ezinearticles, hubpages, articlesbase
Web sites offering videos, photos and text, such as our Facebook page, twitter account and YouTube channel.
Radio interviews

Help your teen be a great driver

TV interviews
Newspaper Articles
Presentations to students in schools
Presentations at non-profit events
Funding for programs are arranged through corporate sponsorships, grants and donations from individuals. To learn more about our wonderful partners, click here.
The Teens Learn to Drive site, the 3 Keys Book and the driving videos are for teen drivers and their parents. To learn how to drive a car safely requires active parent involvement. Driving is one of the most dangerous things we do every day, so teens must properly learn to drive a car to reduce their risk of a crash.
To learn more about who we are what, what we aim to do, and our accomplishments, check out the following links below:
If you were led to this site by the "3 Keys to Keeping Your Teen Alive" book, check out the banner below to find the page our book is directing you to:
To donate please click the button below.