Learn to Drive | New Ratings System for Cars
WASHINGTON, DC - The government will roll out a new ratings system  to test whether your car is safe. This new system only applies to new cars starting with 2011 models.
To help keep teens protected parents should be mindful of the safety features of the car their teen will learn to drive.  This is usually the family car.  The family car is also used after a teen gets a full license and is driving a car by themselves.  Parents are recommended to get the safest car possible for their teen to learn to drive.  This is usually the newer cars which have many more safety features than older cars.  Should a crash happen the car's safety devices will help reduce the severity of the injuries to your teen.    
The government says it'll give consumers a lot more information about how well that car will protect you in an accident.
Ray LaHood, the Secretary of Transportation says, "We're raising the bar on safety."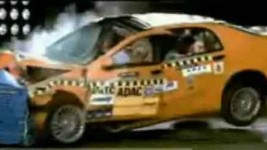 The National Highway Traffic Safety Administration's new 5-star rating system includes something they've never used before, female crash dummies.  "We know that the size and the shape of females is quite different than it is for males," said LaHood.
They're also rating how cars perform in side-impact crashes, and considering new technology, like rear sensors. "If a car comes close to you on the side, or the rear backup, or if they're too close to a car in the front. So we've looked at that technology as a way to really measure safety," said LaHood.
They're collecting more data on injuries, especially head injuries.  And there's a new 'pole test' that simulates a 20 mph crash into a 10-inch pole just behind the driver. "In order to get a 5 star rating you have to manufacture a really safe car,"said LaHood.
The government says not many new cars got the top rating.