Learn to Drive - Lone Survivor Wore a Seatbelt
At some point, as your teen learning how to drive a car, you may begin to think, "driving is far too dangerous for teenagers.  I don't want my son or daughter driving a car until they're twenty-five!"
Believe me – I understand! I have thought that many times.  (And some teens are just not ready to learn to drive at a mere sixteen.)  But for most teens, there is a trade-off.  If you delay teaching your teen how to drive a car until they turn 18 – you'll lose most of your impact as coach and monitor.  By that time, they will likely be going off to college or getting their first job.  You won't be in a position to influence their driving habits much at all.
And in the meantime, they'll want to drive with friends who've received their licenses.  So think about this:  When will they be safer –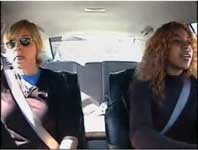 when they're driving as passengers of friends who were trained by who-knows-who?
or when they're driving themselves after they've been taught lovingly by you with the help of this program? 
So – stay the course – but give it everything you've got and make sure your teen is the best prepared driver in the country!
The attached video is a very graphic example of how wearing a seatbelt as a passenger saved the teens life.
Have them practice putting on their seatbelt before starting the car.  Make it part of  their Drivers Ed checklist.  Look for more information in the Driving Lessons sections of the Workbook and the Video Library.  Click the link below to go to Driving Lesson 1. 
Learn To Drive: Driving Lessons Video Library
Groups LEAST Likely to Wear Seat Belts:
Males
Youths: Ages 16 – 24
Occupants of Pickup Trucks
Rural Occupants
Rear Seat Passengers
Residents of Secondary Law States
People with Less than College Education
Households with Income < $50,000
Drivers Who Consume Large Amounts of Alcohol
People Who Drive at High Speeds
NOPUS/VOSS Survey Data