How to Drive a Car | Take Extreme Care When Passing Farm Tractors
Even though a teen may not live in a farming community, they may encounter a situation where they need to pass a farm tractor during their early years of driving a car.  Therefore it is valuable to prepare them when teaching them how to drive.
Tractors are large slow-moving vehicles, that weren't intended to be driven on major roadways.  But sometimes farmers need to get from one field to another, and the only way to do that is to use the same road you're driving a car.   Some GDL restrictions may include the type of road you can drive on.  Rural roads are usually OK so it is very likely that as you learn how to drive a car in rural areas you may encounter a tractor on the road.
Be patient. Don't crowd them.  Remember that the tractor is a very top-heavy vehicle that's already prone to rollovers and the shoulder of the road is soft or gravel.  The driver has no seatbelt or roll bar.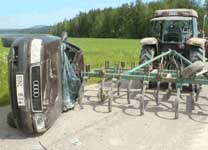 Many deaths or serious injuries have occurred when city slickers, in a hurry, passed a turning tractor too closely and forced it onto the soft shoulder, causing a rollover crash.
If you encounter a tractor as you learn to drive, wait until you have sufficient time to pass and you can do so safely – without putting the tractor driver at risk.