Click on the links below to access all of the  parent and teen driving contracts and templates. You can complete the contracts on your computer by entering in the shaded fields but you must print the contract to save the entries. Alternatively you can print the contract and complete by hand.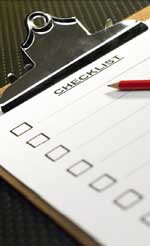 Teen Driver and Parent Contract
Teen Driver and Parent Contract Level 1 License (Learner's Permit)
Teen Driver and Parent Contract Provisional (Restricted) License
Teen Driver and Parent Contract Full License
Use an On-Line Contract Creator at Road Ready Teens
Creating Your Teen-Parent Driving Contract
This is a very important step as your teen learns how to drive a car. Sergeant Gus Ramirez of the Highway Patrol, Sante Fe County, New Mexico points out in his message to parents:
"Educate your teens by giving them the facts to help them make good driving decisions. Then make rules they need to follow. Follow up with strict consequences for breaking the rules. Talking is great but actions speak louder than words. It won't work unless you follow through. They may hate you for saying no now but dealing with their anger is a lot easier than placing flowers on their grave."
Finalize Your Rules
Teens are not the worst drivers – but they are the least experienced. Teens just learning how to drive a car have not built-up their driving experience. That lack of experience contributes to driver error. And it is driver error made by teens just learning how to drive a car which is the cause of most crashes. It's important to eliminate as many distractions and potential problems as possible so young drivers can concentrate on driving.
If you have worked through the early chapters of "3 Keys to Keeping Yopur Teen Alive" you've been building your family rules. Now use them to complete or modify the contracts. The links above are templates to use with teens who are just learning how to drive a car. When it's completed, sign it with your teen. Post it in a place where it can be seen (like near the refrigerator.) Periodically talk about it with your teen – to keep it fresh in their minds and to find out if they're having any difficulties.
The Safe Passage Clause
You'll see that the contract includes the "Safe Passage Clause." It is very important for teens just learning how to drive a car. Mistakes can happen. Things can get out of control. The "Safe Passage Clause" tells your teen that their safety is the most important thing. If they are ever in a situation where they need a safe ride home, you agree to pick them up or arrange another ride so they can get home safely.
If you get that call, it's important to stay calm and postpone discussions about what happened until the next day. That night, your adrenaline will be pumping. You'll be worried and maybe even angry. You could get carried away, scolding or overly emotional about what's happened. You could say things you regret. As a result, your teen might decide not to call the next time they get into trouble and that could be disastrous.
It's okay to say you're disappointed. It's okay to talk about how some behaviors are inappropriate or dangerous – and why. Use the situation as a teaching moment. But also make sure your teen understands you appreciate that they called you. Let them know that you recognize they used good judgment by asking for your help instead of risking their lives. Encourage them to continue to use good judgment and call you again, if they ever need a safe ride home. Part of the learning how to drive a car is having them learn good judgement. As they get older they should be able to avoid getting into those prfoblem situations.

Rules, Consequences and Monitoring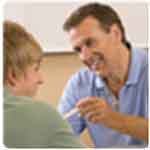 Your Teen-Parent Contract will make your expectations clear but it's useless unless you assign meaningful consequences, monitor your teen's adherence to them and follow through with the consequences immediately if a rule is broken.
So what kind of consequences should you set? Make sure the consequences you set for breaking the family's driving rules are a deterrent, not just a slap on the wrist. And impose the penalties immediately, as soon as the infraction occurs. Not – "on Sunday morning, after the Saturday night school dance."
Use Your Judgment

You know your teens, so make the consequences meaningful to them. Penalties should relate to driving and reflect the seriousness of the offense. Although all offenses are serious, (or they wouldn't be included) some may have an explanation that should be considered, so use judgment. For example, your teen might honestly forget to buckle their seatbelt once. So a stern reminder to say "Seatbelt Check" (and do it) before they put the car in gear might be enough the first time. The second time, the consequence might be 1 month without driving privileges – because you don't want your teen to get in the habit of forgetting to buckle their seatbelt.
Speeding and reckless driving are serious offenses because they often lead to crashes. They require serious penalties. For example – the penalty for speeding 5-10 miles over the limit should hurt. More than 10 miles over the limit should hurt even more like:
Suggested First Offense Fines for Speeding

5 to 10 miles over the speed limit - loss of driving privileges for 1 month
10 + miles over the speed limit - penalty is doubled to 2 months or more
Street racing – Penalty is tripled plus an additional family 'fine' (or other penalty)
In each case, the teen should also be responsible for paying:
• The fine associated with a ticket
• The additional driver insurance premium, if there is one
Second and Subsequent Offenses
Again – penalties need to escalate. They should double – at least. You need to escalate your involvement too. If your teen continues speeding or driving recklessly, check with your local hospital or police department to see if they offer programs for teen drivers. Some offer excellent programs that allow teens to meet people who've been involved in crashes caused by that kind of irresponsible behavior. Seeing the devastation first-hand should have a serious effect.
Remember that you control the keys to the car. If your teen continues speeding or driving recklessly – take the keys away. And consider that your teen may have other problems. Alcohol and drug use are often linked to speeding and reckless driving. Get them whatever help they need.
What if your teen gets a ticket and hides it from you?
Your driving contract addresses that. There must be trust and your teen must understand at the outset that hiding a ticket from you is a very serious offense. Determine what the additional penalty will be.
Monitoring Your Teen's Driving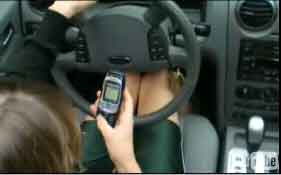 If your teens are breaking the law and endangering the lives of themselves and others, you need to know right away because - you can't fix a problem you don't know exists. Speeding tickets are like customer complaints. In my other life, I'm a corporate trainer. One of my favorite topics is Customer Service. In that role, I try to help my students understand that – as unpleasant as it can be to hear customer complaints – they are gifts. They should not only listen to them and resolve them - they should be grateful for them!
The fact is – that for every customer who complains – many, many others had the same problem but didn't bother to complain. They simply found another supplier for that product or service. That's disastrous for business – and the long-term effect could include cutbacks and job losses. So when someone takes the time to complain, they're doing the company a favor! By complaining, that customer gives them an opportunity to explain a misunderstanding or rectify the problem, and fix the root cause to protect future business. (And often the 'complainer' becomes a loyal customer as a result.)
If there's a Problem – You Need to Know. Traffic tickets are equally unpleasant to get - but can be gifts in disguise. They make you aware of a problem so you can address the root cause – make your teen slow down and obey the law.