How to Drive a Car | Teen Drivers Need More Sleep to Stay Safe
A danger for teens learning how to drive a car is drowsy driving.  Their internal clocks are out-of-whack.  That results in teens driving a car when they have not had enough sleep.  Teens need to learn to drive only when they are fully awake. Parents need to recognize this and train their teens to recognize when they are too tired to be driving safely. 
Most teens have a hard time sleeping before 11:00 pm because their circadian rhythms are naturally off.  That would be okay, except that most of them have to get up early for school.  My daughter's school starts at 8 a.m.  She has to be out the door each morning at 6:55 to be there on time. Some schools start even earlier.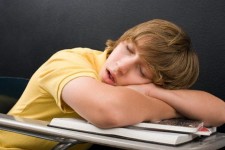 Experts say teens need 8 ½ to 9 hours of sleep each night. Early school start times mean they don't get nearly enough.  Professors at Eastern Virginia Medical School linked early school start times and the resulting sleep debt of students to higher incident of crashes involving students driving a car. 
Be sure to be well rested before driving a car.  Make this as part of your Learn to Drive checklist.  Look for more information in the Driving Lessons sections of the Workbook and the Video Library.  Click the link below to go to Driving Lesson 16.