How to Drive a Car - Passing Other Vehicles
This video is about what can happen when a mistake is made during an attempt to pass other vehicles.   While learning how to drive a car you need to take extra caution in certain situations....such as passing.   Your learn to drive program needs to include practicing this procedure .  Look for more information in the Driving Lessons sections of the Workbook and in the Video Library.  See Driving Lesson 17.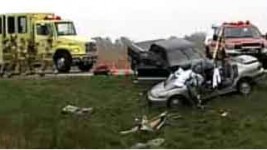 Learn How To Drive a Car: Driving Lessons Video Library
Learn To Drive Tips:
NEVER attempt to pass if you aren't certain you have sufficient time.  Have patience.  Wait for the right time when:
You can see the other lane clearly and there are no approaching cars
You are sure you have time to complete this maneuver safely
 The lines on the road indicate that it's okay to pass in this area
You are not approaching a hill or a curve in the road
Your ability to judge sufficient clearance to pass safely improves with driving experience.  Your life is not worth the risk of passing others on the road.  Learn to drive as if your life depends on it ...  it does!