Learn to Drive a Car  | Improve Your Driving Skills and Save Money on Car Insurance
For teens that are learning how to drive a car the "Steer Clear Driver Program" is more than a safe driver discount  it's a great opportunity to review and improve driving skills. Who can't use a little refresher course?  And, if there is a Steer Clear car insurance discount in your state, why pass up the opportunity to lower the cost of your auto insurance?  When teens learn to drive there is an additional premum added to the insurance on the family car.  
3 Ways to Complete the Program and Earn Your Safe Driver Discount
Your Agent
Your State Farm® agent can give you a Steer Clear kit that includes all the program materials, including a DVD of Rearview
Online
All of the program materials, including the Steer Clear video Rearview, are now available online.  Everything you need to complete the Steer Clear® Safe Driver Discount program is available at the on-line site. Simply follow the instructions, complete the trip log for driving a car and meet with your State Farm agent. If you have any questions, contact your State Farm® Agent.
Mobile
Download the Steer Clear® Mobile App for iPhone, iPod Touch, and Android (OS 1.6 and above) and complete the Steer Clear Safe Driver Discount program anytime, anywhere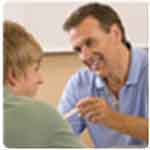 Online:
Step 1 Read
Review the Steer Clear® program eligibility, see if the discount is available in your state, then read the Program Overview.
Step 2 Watch
Drivers under age 19 must view the Rearview video below; all other eligible drivers aren't required to watch the video
Step 3 Print
Print, complete and sign all the forms in Program Materials, then complete your Trip Log within 60 days
Step 4 Meet
Meet with your State Farm agent and bring all your signed forms and your completed Trip Log of driving a car
Eligibility Criteria
You are eligible to participate in the Steer Clear program if:
•You are under age 25* or you are learning how to drive a car  and have less than three years  experience driving a car.
•You have a valid driver's license or learner's permit.
•You've had no at-fault accidents or moving violations during the past three years or as long as you've been driving a car (if less than three years).
•All vehicles in your household are insured with State Farm Insurance Companies.
Steer Clear® Program Materials:
•SteerClear (PDF, 228KB) En Español
◦Statement of Qualification
◦Parent/Driver Agreement
◦Safe Driver Pledge
◦Trip Log
◦Post-Log Driver's Self Assessment
To get more information go to:
http://www.statefarm.com/insurance/auto_insurance/steerClear.asp