Learn to Drive | Safe Teen Drivers can get $1,000 savings Bond
Teens learning how to drive a car in Virginia can also get incentives for driving a car safely.  The text below is the content of the video.  As the learn to drive safely they are also developing habits that will keep them safe on the road. 
Teen drivers are responsible for 12% of the fatal automobile crashes in Virginia.  Sixteen year old drivers are more than 20 times more likely to cause a motor vehicle crash than any other licensed driver.  In fact the leading cause of death among 16 to 20 year olds are motor vehicle related crashes.  That is why Virginia Farm Bureau has established its Teen Driver Safety Program.
Bruce Stone Safety Manager, Farm Bureau Insurance says, "The way we see it is that children go through drivers educations as part of their high school.  When they come out they have a driver's permit.  We then enter into an agreement with those young people that they promise they will drive defensively, not drink and drive and wear the seatbelt.  We ask them to do such things as have a valid driver's license.  We want them to maintain their insurance with Farm Bureau.  And then we ask them to drive for 3 years with no accidents and no convictions.  At the end of 3 years we then reward that teen driver with $1,000.00 US Savings Bond."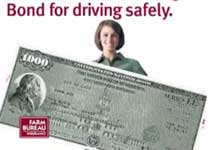 It used to be that parents worried about over confidence and drinking and driving and while those remain critical lessons for teen drivers, more recently driver inattention by texting or emailing over the phone has become common.  It is important to emphasize these cautions early.
  "Typically with teen drivers speed is a problem.  We saw the numbers increasing each and every year with teen fatalities and that we felt the need and responsibility to step and try to do something that would address this loss of life." Says Bruce Stone.
The program has awarded nearly 4500 savings bonds in its history.  The reward is a pittance compared to the safe driving habits instilled.
"We feel like we have accomplished several things. One – Everybody wants to be rewarded but the most important thing is that we feel we may have set in motion for a teen driver to have learned responsibilities that come with driving a vehicle."
The statistics are sometimes overwhelming.  In part due to a teenager tendency to take more risk behind the wheel.  One of the tenets of the program is to get teenagers into good habits while driving instead of bad habits.
"With the teen driver safety education program is specifically designed to help young drivers establish and maintain good safe driving habits." Says Bruce Stone.  "What we want to do is see the teen get into the program early.  The critical year for teen drivers is the first 10 to 12 months because they start driving with little experience and they need to get off on a good footing so they can avoid the accidents the speeding tickets and ultimately survive those early years without getting themselves hurt."
The Virginia Farm Bureau Insurance Teen Driver Safety Education Program teaches our young people to apply safe driving techniques while saving money on car insurance premiums.  Ultimately though saving lives is the greatest reward.