Learn to Drive | B.R.A.K.E.S. Program Instructs Teen Drivers
 
 The B.R.A.K.E.S. (Be Responsible And Keep Everyone Safe) teen safe-driving program is helping teens learn how to drive a car safely.  The program made its third and final West Coast visit this year at Auto Club Raceway at Pomona.  With the help of NHRA, B.R.A.K.E.S. has provided hands-on defensive-driving training for approximately 480 California teens in three visits.
"It was great to be out in Southern California for schools," said B.R.A.K.E.S founder Doug Herbert. "This year, we put almost 500 teens through the school in Pomona, and we're saving lives. I'm so thankful for the support we've received from [NHRA President] Tom Compton and everyone at the NHRA. Together, we are making a difference."
Locally based NHRA Funny Car drivers Jeff Arend and Jack Beckman and Compton were among those at the two-day event.
The mission of B.R.A.K.E.S. is to prevent injuries and save lives by training and educating teenagers who are driving a car and their parents in learning how to drive a car safely.  The program conveys the importance of safe and responsible driving.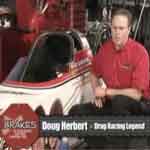 On January 26, 2008, Doug Herbert experienced every parent's worst nightmare – his two sons, Jon, 17, and James, 12, lost their lives in a tragic automobile accident.  Herbert, trying to make sense of the tragedy, decided to form a non-profit organization that would focus on safe driving.  He wanted to help prevent others parents, friends and families from enduring the pain of losing a loved one to an automobile accident.
Herbert partnered with Jon's classmates from South Lake Christian Academy to create a name for the safe driving foundation.  The students chose B.R.A.K.E.S. – which stands for Be Responsible and Keep Everyone Safe.  Herbert took action and quickly applied for 501(c)(3) status.  He began to spread the word about the importance of learning how to drive safely.
Click the image below to visit the BRAKES web site.