Learn to Drive | The California Start Smart Program
Learning how to drive a car means getting a license and this opens a new world to young drivers.  Suddenly, the possibility of new destinations and experiences with friends are within grasp. But a teen driver lacks the experience that is sometimes needed when driving a car. Hazards can appear in seconds, sometimes too fast for a new driver to respond to. But teens can learn to drive safely and avoid dangerous situations. There are ways to keep a new driver - and their passengers - safe on the road.To help teens learn to drive safely the Califonia Highway Patrol (CHP) has created a program for teaching teens how to drive a car.  It is called the "Start Smart" Program.  It is about keeping new drivers safe on the road.
DID YOU KNOW ?
Teen drivers are found at fault in 66% of ALL FATAL collisions but they only represent 4% of the state's licensed drivers.
The leading cause of DEATH for Americans 15 - 20 years old is motor vehicle collisions.
What is the Start Smart Program?
The California Highway Patrol's Start Smart program is a driver safety education class which targets new and future licensed teenage drivers between the age of 15 - 19 and their parents/guardians.  Research by the CDC has proved that parents are key to keeping their teens safe on the road. 
(The book "3 Keys to Keeping Your Teen Alive: Lessons for Surviving the First Year of Driving" provides all the information necessary for parents to be a key factor when their teen learns how to drive a car.)
What Does The Class Entail?: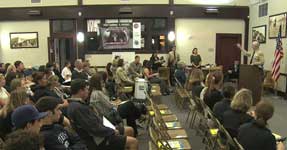 CHP officers will discuss traffic collision avoidance techniques, collision causing factors, driver/parent responsibilities, and seatbelt usage. Additionally, testimonies will be provided by officers who have investigated fatal collisions involving teens, and by family members who have lost love ones in traffic collisions.
How Do I Sign Up?
If you live in California contact your local CHP office for class dates in your area.  To find the nearest CHP Office follow these steps:
 Click Here for CHP web site
Select the tab "Divisions & Offices"
Go to the box labelled "Assistant Commissioner Field" and click on the Division name for where you live.
From the Division Page click on the box labelled Area Offices