How to Drive a Car | Monitor Your Teen's Driving Behaviour
Among teens who are learning how to drive a car, there 6,000 deaths per year .  Distracted driving is becoming more of a problem as teens are being introduced to cell phones and texting at earlier ages.  Teen distracted driving has become an epidemic with the advent of modern Smartphones.   Distracted driving is occurring in the age bracket of 15 to 19 year olds, an age when teens are still learning to drive a car.   
An Android application has been developed called iGuardianTeen. It is designed to keep teens who are learning how to drive a car distraction-free and focused on the road.  It prevents texting and phone calls while driving a car. It also keeps a log of any communication. A report is emailed to the parents with details on top speeds and GPS coordinates of their teen who is learning to drive a car.  An additional features is it records video in 5 minute loops.  Should an accident happen, the video is automatically uploaded with locations and other relevant information.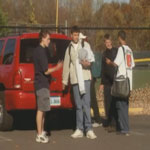 By creating a convenient way for parents to monitor their teen who is still learning how to drive a car, it is hoped teens will drive responsibly and have the proof to show it.  It will also help deflect pressure from teen passengers to speed or do risky activities.  It hopefully will develop a driving behaviour without distractions and maybe turn the behaviour into a habit.  
Some of iGuardianTeen's features include:
For teens learning how to drive a car it provides automatic drive reports, emailed after each driving session, to parents which includes speed, GPS location, acceleration and g-forces.
It blocks texting and phone calls while the car is moving.
A dash camera records in a 5 minute loop and automatically uploads video in the event of an accident.
Providing automatic accident detection to notify parents, providing video, location, and other vital information.
"There is an urgent need to teach and protect teenage drivers (who are learning how to drive a car)," said Mark Loges, President of iGuardianTeen. "Currently motor vehicle crashes are the top cause of death for teenagers, and account for one in three teenage deaths nationwide. We need to do more to teach and protect our teens, and apps like this can be a part of the solution."
The CDC says there are more than 6000 teen deaths per year due to vehicle crashes. Car crashes are the leading cause of death for teens. The death rate is 4 times higher than that of adults.
"There are many monitoring services already on the market, but they all require hardware to be installed and cost hundreds of dollars," said Loges. "This is the first app-only solution, and it provides more services and more versatility than hardware-only options, with a much lower cost."
The iGuardian Teen app is available on Android devices through the Android market for $19.99 at http://t.co/a51Lv1C. Users can also learn more about the app by going to http://www.iGuardianTeen.com.
"We hope in the future that insurance companies and other public safety institutions will help provide rewards or discounts for drivers who use apps like this," Loges said. "Each iGuardian Teen report helps a parent understand individual behavior when driving a car and identify areas for improvement, and hopefully can help keep teenagers safe and save lives."