How to Drive a Car | Chose Safety Features for the Family Car
Teens learn to drive a car using the family car.  It is the family car that they use during their GDL period and when they start driving a car by themselves on a full license.  Since teens are the most at risk driving a car during these early years, parents need to take every step possible to keep them safe.  One option is to replace the family car with a later model that has the latest safety features.However do not make the mistake of handing-down the "old" family car to your teen.  Since your teen is still learning how to drive a car they are at the highest risk of being in a crash which can kill them or others.  A new car may not stop the crash but it will reduce the risk that your teen will die or be seriously injured when driving a car. 
The latest car offerings from car makers includes small cars with a lot of safety features you would expect only in the high-end luxury cars.  As well as being affordable they are also very fuel efficient. Your teen needs a lot of practice to gain experience in driving a car, so you will start to notice more miles being driven. 
Car designers use high-strength low alloy steel to create car bodies that are strong enough to double as the frame and rollover cage.  Extra steel support is put in doors to stop side intrusion.  This will protect your teen in the event they have a rollover crash.   A crash can happen when they are still learning how to drive a car and after they have a full license. 
Some new cars are also equipped with smart airbags. They can adjust their inflation depending on the size and position of the passenger.  The Chevrolet Cruz has 11 air bags and the Fiat 500 has 7. 
The Fiat 500 also has reactive head restraints.  If you get hit from behind, they help minimize whiplash injuries by reducing the gap between the head restraint and a passenger's head.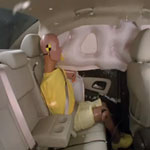 The Ford Focus has an air bag system that helps lessen the impact of the air bag on the driver's chest and ribs. The front passenger airbag has adaptive venting that adjusts to the size of the occupant. This helps to add more protection to the head and neck. 
The Kia Forte compact sedan and Kia Soul have front active headrests, dual advanced front airbags, front seat-mounted and side curtain airbags, full-length side curtain airbags, side impact door beams, front and rear crumple zones, anti-lock brakes with brake assist, stability control, traction control and a tire pressure monitoring system (which can help avoid a dangerous tire blowout. 
An additional feature in these small cars is electronic stability control.  It often comes as standard equipment. This safety feature has been proven to save the lives of teens learning how to drive a car by significantly reducing the risk of a crash, by helping drivers maintain control of their vehicles during emergency manoeuvres. 
The Insurance Institute for Highway Safety (IIHS) rates vehicles good, acceptable, marginal or poor based on performance in high-speed front and side crash tests and a rollover test. They also evaluate seat and head restraints for protection against neck injuries in rear impacts.  Eleven of the 25 compact cars tested by IIHS earned a rating of "good" (the highest rating) in all four categories.