Welcome to the Teens Learn to Drive Website!
Teens Learn to Drive is a non-profit corporation whose mission is to reduce death and injury from traffic crashes. We actively work with other non-profit organizations and corporations to:
 Raise awareness that teen drivers have an increased risk of being involved in fatal and injury-producing crashes
 Educate and support parents about their crucial role in helping their teens become safe drivers
 Educate teens about unsafe driving behaviours and help them develop workable plans to minimize their chances of a fatal collision
 Educate and support new citizens to integrate existing driving experience into safe driving through an understanding of laws and practices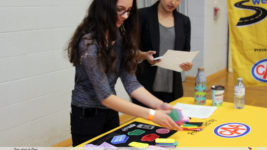 The delivery of this education is via:
 Peer-to-Peer and Leader-Led events for teens
 Interactive presentations for parents and coaches
Printed materials: books, posters and flyers
 Articles
 Social Media
 Videos, PSA's and Interviews
Our programs and resources are provided free of charge thanks to the generosity our of our sponsors and partners. To find out how to partner with us, click here.