Learn to Drive - Learn to Avoid Distractions
Teens learn to drive without experiencing distractions.  The teen is normally with an instructor or parent. The radio is turned off, there is no idle chatter and there are no other distractions.  They are careful to wear a seatbelt and if they forget they are reminded.  It is not exactly real life and a real driving situation when learning how to drive a car.  Once teens get their license they play the radio loud, they talk to passengers, they speed and they forget to wear their seatbelt.  What can be done to change this?  Research indicates parents can play a key role.  Parents can influence the behaviour of their teen .... even if they are not in the car beside them.  
The latest National Young Driver Survey from State Farm and the Children's Hospital of Philadelphia, highlights 4 risk factors that contribute to 84 percent of teen fatalities from car crashes. They are:
1. Driver error caused by inexperience
2. Distractions - including talking on cell phones and texting
3. Speed
4. Not wearing seat-belts - A lot of teens still don't wear them even though their parents think they do.
This really isn't news. It confirms what other surveys and statistics have reported for years.  Young people die in car crashes three
times more often than from firearms, the second most common cause of death.  Between 1995 and 2004, almost 31,000 people died in crashes involving 15- to 17-year-old drivers, the majority of which were passengers, occupants of other vehicles and pedestrians.
Parents think driving schools are doing a better job of preparing our young drivers but too many still die every year for the same old reasons. The sad thing is that almost all of those deadly collisions could be avoided.
We need to do much better. One life lost is too many.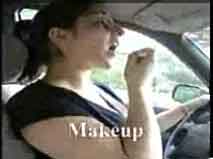 Be sure to teach your  teen to practice putting on their seatbelt before they start the car.  Teach how to avoid distractions and stay within the speed limit.  Look for more information in the Driving Lessons sections of the "3 Key to Keeping Your Teen Alive" Workbook and the Video Library.  Click the link below to go to Driving Lesson 1. Learn To Drive: Driving Lessons Video Library