Learn to Drive | Ellen Degeneres  and Teaching Driving
A good start when you learn to drive is taking driving lessons.  Many schools however provide less than 8 hours of driving practice behind the wheel.  To learn how to drive a car safely requires over a 100 hours.  Parents must supplement driving lessons by providing structured practice with their teen as they learn to drive.
Many driving schools also provide excellent courses and driving lessons for parents who are teaching their teens how to drive a car.  Check them out.  You don't want to pass your bad habits on to your teen.  (Updating your skills can't hurt either.)
Teaching your teens to learn to drive responsibly is more important than anything else you're likely to do this year.  It's a very serious business.  It's a matter of life and death.
Are you the Best Coach for Your Teen?
Be honest. Do you have nerves of steel?  Are you naturally patient and reassuring?  Are you attentive, focused and a good communicator with excellent driving skills?  What experience do you have with Drivers Ed?
If you aren't, consider finding a friend or relative who can coach your teen how to drive a car – or hire a professional.
Keep in mind that you have the authority and power to produce the results you want.  Studies show that parents are the key to help teens learn to drive safely.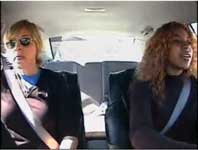 How to Choose the Right Driving School
One driving school is not the same as the next.  There are 2 basic types:   
Schools that train drivers to pass their driver's test and get their license. 
Schools that provide new drivers with the basic skills they'll need to become safe, responsible drivers.  These schools encourage parents to reinforce the lessons through structured practice sessions with their teens.
This fact is clear from an article that appeared in my local newspaper recently about driving schools that are ferrying teens 3 to 4 hours from the city to rural DMV offices to take their road tests. They do it because there's less traffic there so the road test is easier and teens are far more likely to pass on their first try. 
The problem with this approach is, of course, that these new drivers will not be driving on rural roads with very little traffic.  They'll be driving on complex city streets with plenty of noise and multiple lanes of speeding cars.  Passing the rural test will give them increased confidence in their driving skills even though those skills aren't adequate to keep them safe on the roads they'll actually be driving.  The result could be disastrous.
In some areas driving schools aren't even as regulated as your local restaurants. At least those restaurants have signs in the window that tell you how they did in their latest review by the Board of Health.  There's no such thing for driving schools.  Even if the schools were reviewed, it's near impossible for parents to find out how they fared. (To read Lauren's blogpost on this topic, go to http://teendrivingblog.wordpress.com/2009/11/19/how-can-parents-find-safe-driving-schools/ ) 
And - considering the important job they do, you'd think there would be strict standards that apply to all driving schools, but there aren't. Some schools operate within DMV guidelines, others don't.  Some don't even ensure that their cars are road-worthy.   (Again – read Lauren's blogpost, above.)
So – what CAN parents do to find a good driving school so their teens can learn to drive from qualified teachers?
Look for a course that includes in-car driving lessons on a closed course, like a parking lot, where teens can learn without worrying about other cars.  Lauren suggests that they also learn in their own cars, if possible.  (This way you have the added security of knowing the vehicle is roadworthy.) 
Parents should also look at the backgrounds and training of the instructors. Lauren suggests that retired police officers know the rules of the road best and professional racecar drivers have the most driving experience and driver training.
The driving programs should also have a number of elements.  AAA (the American Automobile Association) suggests that driving lessons:
Provide significant supervised in-car instruction over an extended period of time because teens take time to learn
Have a performance-based curriculum that includes:

Risk management skills
Decision-making skills
Visual training
Nighttime driving
Involve parents/guardians and encourage collaboration between them and instructors
Use a multi-media approach that includes computer-based methods, simulations, demonstrations, and gaming
Provide consistent, appropriate messages
Deliver their program at an affordable cost
Guidelines for Choosing a Driving School
Check out the school:

How long have they been in operation?
What is their BBB (Better Business Bureau) rating?
What do their facilities look like?
If they provide cars for the teens to drive, look at the cars and see if they are in good shape. (Take someone with you who knows about cars)
What certifications do they hold?
Ask about the training of the instructors. What certifications do they have? (Ask to meet the instructors if possible.)
Do they have (or use) a closed course for some of the lessons?
Do they teach in-car and in the classroom?  (How many hours of each?)
Do they provide cars or allow teens to drive their own vehicles?
Have they surveyed past students to determine the effectiveness of their program?
Do they use computers in their program?
How many students do they have in a class?
What is the student-to-instructor ratio?
Is the school recognized by your insurance company?  (Will they provide a discount on insurance when your teen passes the course?)

If you need more information to make a good decision, ask if you can sit in on part of a class. 
The attached video with Ellen Degeneres is a humourous view of a driving lesson .... this NOT the way to do it.