How to Drive a Car - The Wrong Car for a Teen Driver
Teens usually learn how to drive a car using the family car and it is the family car that they use during their GDL period and when they start driving a car by themselves on a full license.  But even after getting a full license teens have not acquired all the necessary skills in how to drive a car safely and responsibily.   Teens are at the highest risk of being in a crash which can kill them or others so parents are encouraged to get the latest model family car with all the safety features.  If parents are wealthy they may chose to get their teen their own car.  But this car should not be a sports car with a big engine that the teen will want to "show-off" or try "street racing".   
Sean P. "Diddy" Combs has created an empire that's earning him a fortune. It's a shame he can't devote a little of that brain power toward how he performs as a dad with a teen driving a car.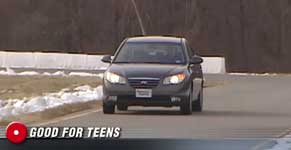 He recently bought his son, Justin, a Maybach.  (I had to look it up because I'd never even heard of a Maybach before.)  A Maybach is a luxury car that costs $360,000.  It goes from zero to 60 mph in 5.2 seconds and has a top speed of 155 miles per hour.  The boy just turned 16!
6,000 teens die in crashes every year.  300,000 more suffer life-altering injuries, and the first year of driving a car is the most dangerous.  But when Martin Bashir asked Diddy about the wisdom of giving such a gift to a kid with a Learner's Permit, Diddy thought it was all about him.  He insisted he could afford it and he's entitled to do what he wants to do.
If you were a 16 year-old and someone gave you a gift like that, what would you do?  I'd put the pedal to the metal and show off for all my friends – even if I was scared to death while I did it!  The pressure not to – would just be too much!
Diddy may be a marketing genius but he doesn't have the brains he was born with when it comes to parenting decisions like this!
"Did" is a Dud as a Dad.
There is more information about the type of cars for teens.  See chapter 7 in the workbook "3 Keys to Keeping Your Teen Alive".