How to Drive a Car | Checking Coolant
Learning how to drive a car includes learning about checking coolant.   A small leak in a cooling system when driving a car will cause coolant to leak out.  This will cause your car to over heat and can damage the engine.   It is important to know how to check your coolant and replenish it.  Your learn to drive program should include this as an exercise. You can find more information on coolant in Driving Lesson 20 - SP.  Click the link below.
Learn to Drive: Driving Lesson 20 - SP 
COOLANT is a greenish or orange-ish liquid that's sometimes called antifreeze.  Without it, your engine could seize and that's a VERY expensive repair.  Be sure to practice checking the coolant level. (Your Owner's Manual will show you how.)   Make this a part of your Learn to Drive checklist.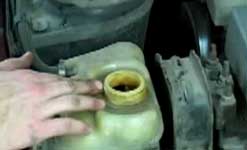 Engine temperature will increase if your coolant level is too low.  If your engine temperature light goes on pull the car to the side of the road and turn it off.  Do not continue driving a car with an over-heating engine.  You will cause severe damage. 
On many cars your coolant level is monitored.  If it drops below the critical level a warning light will come on.  Check your engine temperature.  If the engine in not over heating yet stop ASAP and add coolant.
If you see a pool of greenish fluid under your car after it has been parked, have it checked by a mechanic immediately.  If you can't do that, check the coolant level youself.     If it's low, add coolant and then take it to a mechanic right away.